The World Best Engineer novel - chapter 41
chapter 41

"I'm home."
profit. Lloyd opened the door. he said casually. A view of the inside of the drawing room revealed beyond the open door. Three gazes turned this way.

"No, Lloyd?"
The first to speak in this direction was Baron Prontera. It was a mixture of surprise, delight, and a little embarrassment. Lloyd greeted the baron politely.

"Yes, I have been."

"Yes, you came back safely. Are there any injuries?"

"Yes. Thanks for your concern."

"Still, your face is thin."

"it's okay. Because I worked hard to come over the mountain."
Lloyd let out a wry smile. She was grateful to the baron for taking care of her as soon as he saw her. On the other hand, I thought it was fortunate that the baron had returned to the manor in the most difficult moment. It was because of the two uninvited guests who were now sitting across from the baron's table.

"It's been a while, too. Mr. Shiloh. Mr. Meatloaf."

"… … ."
The two moneylenders had been staring this way without saying a word. Shiloh, a skinny moneylender. Fat loan shark Meatloaf. The gaze of the two towards this side was never good.

'Perhaps it's because of the experience I had to leave because my logic was punctured the last time I visited this place.'
Was that thought correct? The slender Shiloh curled up one lip.
"Oh hey. Who is this? Aren't you the wonderful eldest son of Baron Frontera?"
"I know. What pretext did you come here to kick us out again today?"
Fat Meatloaf also helped out. Lloyd's bitter smile deepened.

"You must have been formally invited today, right?"
"of course."
Shiloh said.
"I sent someone to contact the baron in advance. I asked if we could visit. The wise baron readily agreed to the proposal. Is that correct?"

"… … you're right."
The baron nodded. However, his expression was not very bright. In fact, it was natural. The baron was heavily indebted to them. So, I wouldn't have dared to stop their visit. Lloyd was able to notice all of these circumstances without having to listen to any detailed explanations. It was because I was used to this situation.

'Because my father was like that too.'
Debtors who came to the house every day. Even though my father suffered from their annoyance, he did not dare to stop them. No matter what kind of abusive language they threw at them and how they behaved, they just said yes, yes, no matter what. A powerless person is a sinner. The debtor is the one to kill. These were the words my father spat out like a lamentation as he drank a glass of soju alone on the evening of the day the moneylenders turned the house upside down.

'Whoa, let's stop thinking about it.'
Memories that bring bitterness just by recalling them. Lloyd caught his breath. She suppressed the bitter memories. She looked at the two moneylenders in front of her. His eyes were already calm. Instead of painful memories, it was filled with calm cleverness. The same goes for the voices directed at the moneylenders.

"haha. You did. We sincerely welcome you. Did you get a drink for pastoralism?"
"I want something other than a drink or something."
The slender Shiloh smiled and replied. Fat meatloaf also added a word.
"Like mines, for example."

"A mine?"
"Yes, mine."
Meatloaf's thick cheeks swayed. The eyes half buried in his flesh showed greed.
'Boy, it's the coal mine you made.'
Suddenly, it came to mind. A coal mine said to have been made in the Barony of Frontera. It was said that the eldest son, who was famous for being crazy, mobilized soldiers to make it. He didn't believe the rumors at first. What kind of mine is it in the barony? I wouldn't even have the money to make something like that. I ignored it with such a mocking laugh. but it wasn't Similar rumors have been heard ever since. I heard there was an accident while digging a mine. Beast ants almost appeared. In the process, the crazy eldest son saved the workers. Unusual rumors followed people's mouths and tapped their ears. By that point, even Meatloaf felt the situation was strange. He released a man to investigate the affairs of Baron Prontera. I was able to find out thanks
"No way, who would have known that the baron's eldest son had such a talent. Gudeuljang? On-dol? He made such bizarre things and seduced the locals to raise money, right?"
How surprised I was when I first heard about it.
"Thanks to that, there were things that I finally understood. Somehow, recently, our baron has been paying interest diligently and sparingly? That was the money that came from making that ondol or something."
"With the money left over there, we pave roads. Digging mines too. Smart. Really, coogkut."
Shiloh, a skinny moneylender, also chuckled and laughed. Laughter came out of nowhere. It's a coal mine. That's a freshly made mine. When it came to the smell of money, his own intuition was telling. That mine, if I could occupy it, I was certain that it would become a goose that lays golden eggs for a while.
"So it is. I was just visiting the baron and having a chat like this."

"Isn't that a good story?"
"I guess we were negotiating to help each other."
Shiloh smirked at Lloyd's question. He turned to the baron. She winked arrogantly.
"Will you tell your son directly?"

"… … ."
The baron was silent. Shiloh tut, clicking his tongue. He shrank and raised his pointed chin.
"If the baron doesn't want to talk, I'll have to. To put it simply, it's like this. The baron transfers the rights to the mine to us, and we waive the interest for 3 months to the baron. by the way. Why do you mean the baron keeps refusing our terms?"

"… … ."
"What do young people think? I think it would be okay to try to convince your father yourself. Wouldn't it be great if we did the conditions we offer?"

"… … ."
Bitch to be great. Instead of handing over the mine he made after a lot of hard work, he only got 3 months worth of interest waived. After hearing it, I couldn't even pray. Suddenly, my fists were clenched tightly. It was to the point of grinding my teeth. But Lloyd didn't raise his fist or distort his face. Just because you're angry, if you reveal your anger, you're going to stop it. The more angry you are, the softer you are. The more angry you are, the more sly.

"Oops. That's a win-win proposition."
"Is that right?"
that's bullshit. From now on, I'll turn that offer into a negotiation where only I can win twice to win x2. Lloyd made a promise and smiled.

"Then I would like to make a suggestion. Would you like to hear?"
"Let's negotiate? I don't think you need to hear much."

"From now on, I will pay off the debt in small portions. Maybe some reimbursement. Then, please repay the interest after that and lower it according to the amount of the debt that is decreasing."
"… … What?"

"Oh, what should I do? You've already heard the offer."
"… … ."
A look of displeasure appeared in Shiloh and Meatloaf's eyes. said Meat Loaf, stroking his thick chin.
"That would be difficult."
"right. Trouble. Some reimbursements are impossible. That's our policy."
Shiloh continued.
"If you want to pay it back, pay it all at once. Paying back the money little by little, no. That's not our way."

"her. You want me to pay that much principal all at once?"
"Of course."

"So you mean to keep paying the huge interest in the meantime?"
"It is our way. Didn't you borrow the money knowing that?"
Shiloh raised an eyebrow as if to say something. What he said was true. They were loan sharks. Their purpose and business method was to lend a little money and call it a huge interest. Therefore, some reimbursements were not received. A principal that only grows. How many people in the world can pay off that enormous amount at once? It would be even more impossible for a person who borrowed money because he needed urgent money. In other words, it is to suffer in the bondage of debt that can never be repaid. Like an ant in an anthill. Even if I struggle, I can't escape. The bodily fluids are sucked away, leaving only an empty shell.

'If the debtor suffers and goes bankrupt or dies, then the real estate, such as the estate, is sold at a low price and expensive.'
Shiloh and Meatloaf. It was the tactic the two moneylenders preferred. It was also the substance of the trap Baron Frontera was currently caught in. Lloyd intended to break the vicious chain of the trap at this point.

'Otherwise, no matter how much money I make, it won't end.'
to enable partial reimbursement. To reduce the interest according to the remaining debt. If only those two conditions are fulfilled, a lot will change. It will become more like ordinary debt, no longer called debentures. Paying off debt in the future will also be much easier.

"So I am offering you an offer. How is it? Wouldn't it be great if I did the conditions I'm suggesting?"

"… … ."
Whether the other person laughs or not. A titanium iron plate was placed on his face and pushed. Of course, Shiloh and Meatloaf's snorts got louder. Shiloh put a blatant sneer on the corners of his lips.
"Did our young master lose his senses today? Do you keep acting strangely? Do you really think we'll accept that ridiculous offer?"

"Of course not."
"Of course?"

"yes."
"why?"

"I brought a friend who is good at negotiating today."
"… … What?"
Shiloh tilted her head. Meatloaf drew wrinkles between his thick eyebrows. Lloyd looked back. She said towards the parlor door.

"Hey, you can come in now."
It was the moment when his words fell. That was the moment. Bulking! Whoops! The parlor door opened with great force. It was such a violent force that I wondered if the whole door was being pulled out. The wind created by the opening of the door made Lloyd's shirt collar flutter, as well as the hair of the two moneylenders behind him. And a loud cry rang through the drawing room.
"nice to meet! I, the orc Arosh, have come to meet the master of Baron Prontera on behalf of the Ironsand tribe today, Quyik!"
Quah! The room reverberated with one shout.

"… … !"
Shiloh and Meatloaf involuntarily covered their ears with both hands. With a frightened face, I buried myself in the back of the drawing room. The baron was equally perplexed.

"Hey, uhm, oh, it's been a while since I've seen you?"
"That's right, Kwuik!"

"Did you come with our Lloyd?"
"Of course! I have come to convey the will of our chieftain, Kuiik!"

"You mean?"
"This is it!"
thump, thump, thump! Arosh crossed the drawing room with a huge muscular body. I passed the two frightened moneylenders with my chest muscles burning. I put down a heavy object in front of the baron's table. It was the fang of a large monster.
"The fangs of Kargath can only be hunted by the bravest warriors. The tribal chief wanted to pass this on to the baron as a token, Quyik."

"A token, what kind of proof are you talking about?"
"It's a proof of blood alliance, Kkuik."

"What?"
The baron's eyes widened. Arosh's words continued.
"Lloyd Frontera is the benefactor of our entire tribe. He is not only that, but also a human recognized as a tribal warrior, a rarity in the history of the orc clan, Ku Iik."

"what… … ."
The baron's eyes grew wider and wider. It had to be. He was recognized by the orcs as a warrior of his tribe. What Lloyd boasted about had really come true. It really wasn't easy. No, it was almost impossible. Of course, there were a few exceptions. Among them, the most famous anecdote is that hundreds of years ago, an unknown girl was recognized as a warrior by Warchief Akash. But that was a long time ago. It was a distant story that was difficult to ascertain even if it was only recorded in history books. So, in fact, even the baron sent Lloyd away with little expectation that he would be recognized as a warrior. However, such an unrealistic event was now being officially declared through the mouth of Arosh, a proud orc warrior and son of a tribal chief.
"Also, you are the father of Lloyd Frontera, the benefactor and warrior of that tribe. You are qualified to share blood with our tribe, Quyik."
Arosh's voice was serious. His expression was also solemn.
"How is it, Baron? Will you accept the will of our chieftain and establish a relationship of blood alliance with us, Kuik?"

"… … ."
The baron swallowed dry saliva. It was a great fortune that I could never have imagined. To form a blood alliance with the Orc tribe. In other words, it meant that Baron Prontera would become an official member of the Orc Tribe Alliance.

"Of course."
This was nothing to hesitate or worry about. The determined baron nodded coldly. Arosh smiled contentedly, baring her fangs.
"good night! Now Baron Prontera is allied with our tribe! We are friends, brothers and sisters, kkwik!"
Baron and Arosh shook hands. In the meantime, the two loan sharks had to watch it with blank eyes. And after a while, I unknowingly flinched at Arosh's eyes looking back at them.
"But who are these people? Arosh heard everything outside the door. Those humans kept ignoring the baron, kwuik."

"… … !"
Skinny Shiloh. Fat Meatloaf. The eyes of the two loan sharks shook greatly. Arosh's subsequent question made the two's hearts thump even more.
"Are those humans enemies of the Baron's territory, Kwuik?"

"… … ."
The Barony and the Ironsand Tribe are related by blood. The enemy of the baron is the enemy of the tribe. It is the warrior's virtue to immediately slaughter the enemies of the tribe. As much as that, Orcs were famous for being thorough with grace and resentment. And unfortunately, the two moneylenders were quite familiar with those orc customs.

"Um, well? If these people reject my proposal, they will unfortunately become enemies from then on."
Lloyd smiled and added a word. Upon hearing this, cold sweat began to well up on the backs of the two loan sharks.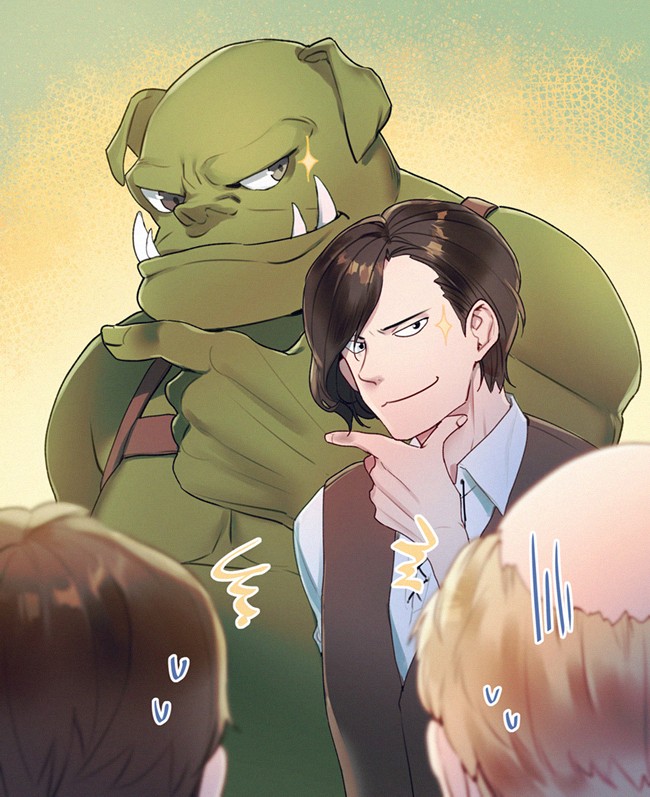 Comments for chapter "chapter 41"
MANGA DISCUSSION
Tips: Lorem ipsum dolor sit amet, consectetur adipisicing elit, sed do eiusmod tempor incididunt ut labore et dolore magna aliqua. Ut enim ad minim veniam, quis nostrud exercitation ullamco laboris nisi ut aliquip ex ea commodo consequat. Duis aulores eos qui ratione voluptatem sequi nesciunt. Neque porro quisquam est, qui dolorem ipsum quia dolor sit ame