The World Best Engineer novel - chapter 40
40 episodes. Friends of the Orcs (2)
Ding dong. [Skill level up!] [Shady Sim: Double Circle Lv 2] [Mana Amplification Rate: 220%] [Skill only options: ① Energizer / ② Potential Explosion / ③ Sleep Mode] [Required RP for next level up: 120] Suddenly in my ears A clear message ringing in. Hearing that, Lloyd cheered inwardly.

'done. the ice is freezing Besides, the skill level went up.'
It was something I longed for. Absorbing only warm-natured mana in the water as a mental method. Doing so lowers the temperature of the water and ultimately freezes it. He was the one who thought that if he made such a new attempt, he would also be trained in the dark simbeop. He also looked forward to it. And that expectation was met exactly.

'Is this much better than I thought?'
Hands immersed in water. He could feel the warm mana being absorbed through his fingertips. It was a bit difficult at first because I wasn't used to it, but once I got the hang of it, it was easier than I thought. It felt like I had succeeded in learning to ride a bike for the first time.

'Now, with more momentum.'
Tsuzuzuzu… … . Two mana circles surrounding the heart. Both circles rotate slightly faster. The mana suction power exerted from the fingertips increased even more. That much heat was absorbed from the water into the hand. The rate at which water freezes has also increased.

'So that your hands don't get stuck in the ice.'
Water that gradually freezes like a slush. In it, he moved his hand little by little and pulled it out. Later, I only allowed my fingertips to lightly touch the surface of the water. In that state, it continued to absorb heat from the water. It was processed into a mana circle around the heart and discharged through the mouth. Thanks to that, warm breath continued to escape from his slightly open mouth. It was heat absorbed from the water.

'Hmm, although the visuals of this are a bit chimney-like.'
Visuals weren't that important right now. Lloyd continued to operate the simbeop. So he finally succeeded in making his first large ice cube.

"Whoa."
hands off I opened my eyes. The water that had been pouring in the frame until just now. The water was frozen solid.

'great. It's a success.'
he raised his head. I raised my gaze and looked at the ceiling. He felt the flow of heat in the air as he operated a shimmering simbeop.

'The heat is also escaping well.'
He could feel the heat he had absorbed and exhausted from the water rushing up the vaulted ceiling and escaping down the chimney. Seamless exhaustion of internal heat. It was proof that the Seokbinggo was built properly.

'Looking at the light from the chimney, it's evening.'
It was a little after lunch when I came here earlier. But after making one ice, it was time for dinner.

'Slow. At this rate, the table for the 60th birthday party might be set by the time the ice is made.'
Let's make it faster. Lloyd sat down in front of the next ice tray. She took a deep breath and dipped her hand in it. She's a little bolder than before. She started to operate the simbeop. Tsuzuzuzu… … !

'Oh, it works.'
Within a few minutes, I felt the water cool slightly on my forearms.

'A little faster.'
Increased the rotational power of the Mana Circle. The power of attraction she concentrated with her fingertips increased even more. So the water cooled down faster. There was thin ice on the surface. It turned into a slush. Finally, a chunk was reborn as a proud (?) large ice cube.

'great. Let's keep going.'
The second ice making took roughly an hour. Now there is an order. Her confidence also came together. He immediately started making the next ice. The next ice was made a little faster.

'About 40 minutes.'
Ice making continued. The time to make it is getting shorter and shorter. The next large ice cube is about 30 minutes. Then 25 minutes. Next 20 minutes. Later it was reduced to 15 minutes.

'Huh, huh. continue!'
You absorb heat with your hands and exhale it with your mouth. I felt as if I had become a human outdoor unit. I worked so hard to make ice all night long. And by the time dawn broke I was finally able to freeze the water in the last ice tray.

"Whoa, whoa!"
Maybe it's because I've been using the simbeop for too long? When I got up from my seat, my eyes went blank for a moment. But it was also very rewarding.

'Simbeop skill level has risen again.'
It was the moment to complete the last large ice cube. The dark psychic skill has finally risen to level 3 of Double Circle. Thanks to this, the amplification rate was also 240%.

'Anyway, this is really completion.'
He looked around the inside of Seokbinggo with a proud face. The warm interior from the day before when Arosh grumbled was now gone. The cold air that comes from the ice created here and there. The cold air filled the inside of the stone ice storage. It was to the point that breath that would only be seen in the middle of winter came out of his mouth.

'Then let's organize it now.'
I was a little tired, but I couldn't rest yet. He once again operated the dark mind method.

'This time, with normal force. Whoops!'
Pretzel! I grabbed a lump of straw sticking out around the ice tray. I gave it strength and pulled it slowly. There was a crunching sound as the large ice cube was slowly dragged out. Lloyd set the ice he lifted up on the thick pile of straw that had been laid out beforehand. As soon as she put it down, she smeared the outside with plenty of sawdust and chaff. It was meticulously wrapped around the sides and top with straw bales. It was to add its own insulation to keep the ice from melting. So Lloyd took all the ice out of her and wrapped it generously in straw. They were stacked layer by layer so that each other's coolness could be protected.

'great. With this, it can last until winter without melting.'
A big smile spread across Lloyd's bloody face. It was the moment when Seokbinggo was finally built. It was also the moment when the time to reap the rewards for completing Seokbinggo after twists and turns came.
♣
"Kwuik! It's really cool, kkwik!"
"Kwuik! It's really cool, kkwik!"
"Kwuik! The ice is delicious too, Kkuik!"
"… … There is a traitor here, Quyik!"
Seokbinggo was a crucible of confusion. Large monster meat obtained from a recent hunt. The orcs who came to put it in the ice bin opened their eyes wide as soon as they encountered the cold air inside the bingo. The same was true of the surprised chief, Akush.
"I didn't know it would really be this cool, Kkuik."
Looking around the inside of the bingo, the chieftain's eyes were filled with admiration. Lloyd shrugged his shoulders.

"Then you didn't trust me very much?"
"To be honest, yes. It was just because I was expecting a little cool basement. But this… … Kkuik."

"What are you so admiring? You just need to be good at locking the door. Keep it closed in the summer, and open it in the winter to let in the cold wind."
In addition, Lloyd taught how to preserve ice in the ice storage and when to obtain and fill ice in winter. All of them were key tips for Seokbinggo operation. Could it be because of that?
"Indeed, Kkuik."
Acush's caldron-like palm rested on Lloyd's shoulder. In the chieftain's eyes, there was a trust that transcended race.
"If it's this cold, I think I can keep the meat until winter. Human Lloyd, thank you very much. You are not only the benefactor who saved my son's life, but also a true friend and warrior who solved our tribe's old troubles, Kuik."

"Then do you recognize me as a warrior?"
"Of course, Kuik."

"The Ural Mountains, a wild boar… … No, don't you have to carry a statue that you can barely lift and do lower body exercises?"
"That's also natural, Kuik."
Chief Akush nodded his big head.
"We are friends now. I can understand and accept it even if it looks like a pitiful anchovy that is weak, weak, weak, soft, and weak enough to exercise the lower body."

"… … Hey, hey."
"I'm kidding, chuckle, chuckle!"
It was the moment when Lloyd laughed absurdly and Akush burst into laughter. Ding dong. An unexpected message floated in front of Lloyd's eyes. [Race open] [Achush, the chief of the Orc tribe, has accepted you as a true friend.] [Now, the Orcs treat you as an equal object of friendship.] [You can increase your friendship with the Orcs and acquire RP.] [Race 100 RP will be specially provided as an opening bonus.] [Current RP: 611]

'uh?'
Lloyd widened his eyes.

'Is it possible to get RP from Orcs?'
In fact, it was something I had been looking forward to since I first rescued Arosh. Maybe I can buy favor from Arosh and get RP. But for some reason he couldn't get the RP. There was no message related to liking at all. Even though Arosh came to regard him as a benefactor.

'So I just assumed that Orcs couldn't get RP.'
I was giving up on myself. gave up hope

'But the truth is different. There was another reason why I couldn't get RP.'
racial barriers. Failure to build friendships equal to that race. That's why you couldn't get RP from orcs. But now that restriction has been lifted.

'It's an unexpected harvest.'
Lloyd made up his mind that he would continue to be friends with the Orc tribe here. He, of course, didn't mind the reward he could get now.

"Then it's time to put the contents of the contract into practice."
"Yes. Since you built us a stone binggo, we give you the exercise equipment we used, Kwiik!"

"Then, I'll give you a stone exercise equipment as per the contract."
Even so, I also made exercise equipment in my spare time to make a stone binggo. It was made into an iron bar by plucking and weaving the steel with a bell. He cut granite and used it as a weight. In this way, he was able to make super-heavy dumbbells, weights, and other equipment and present them to the Orcs. Instead, of course, he was able to obtain the numerous gold and silver treasures that the Orcs had been using. The reward did not end there.
"I, Arosh, made a promise to my benefactor, Lloyd! If Lloyd is recognized as a warrior, he decided to send 120 Orc men to the manor. Arosh is a macho warrior. Today, I, Arosh, keep my promise, Quyik!"
Arosh's cry rang out. 120 muscular orc warriors lined up. They were warriors who volunteered to be dispatched to Baron Prontera.
"Humans are weak, kkwik!"
"I want to teach exercise, Kkuik!"
"We must go, Quyik!"
That's how 120 muscle evangelists, no, dispatched personnel were packed in an instant. Lloyd looked back at them and smiled.

'I didn't expect to pack so many things.'
You can get RP by building friendships with Orcs. The gold and silver treasures piled up in the village were taken care of. It was also possible to use 120 Orc warriors as workers. There were also precious magic materials obtained from dealing with the black magician. The more I counted the things I gained this time, the more I was satisfied.

'great. very good.'
The nuclear gain plan that came to mind when I first found Arosh in the anthill. It was now that a more wonderful picture was drawn than the big picture I drew then.

"Then let's start right away."
He went on his way home while receiving an enthusiastic send-off from the Orc tribe. Lloyd and Xaviel, 40 sapper soldiers, and 120 Orc warriors were added. As it was a large number of people, the procession was noisy while crossing the mountains. But even so, they were safe from the threat of monsters. Quite a few monsters saw the sight of 120 Orcs gathered and secretly avoided them. The monster that sometimes bravely (?) attacked the party had to be counterattacked by Xaviel and the Orc warriors. It's just been stripped to the root of the soul and turned into a great source of protein. So the party furiously crossed the mountain range. There was no problem with the large and heavy gold and silver treasures brought from the Orc village. This was because all of them were originally used by Orc warriors as exercise equipment.
"Because I walk with this on, I get a good workout, Kkuik!"
"I have muscle stimulation on my shoulder, kkwik!"
"Fat burns, quik!"
It was a burdensome thing for a normal human being to lift. But the Orcs rather liked it. He was delighted that walking while holding it stimulated his muscles. It was like the old men at the local gym who shouted that the quality of the steel was the best. They even fought each other to carry the heavier weight. For ten days, I walked, chatted, and passed through the mountains. Finally, a familiar landscape unfolded before my eyes. Frontera estate. It was back home. However, at the baron's mansion, which had returned like that, something unexpected happened.
"Mister Lloyd, the Baron is in the parlor right now."
The administrator who greeted them on behalf of the baron and his wife bowed his head. Lloyd asked.

"drawing room? Are there any guests?"
"That's right."

"Who are the guests?"
"that is… … ."

"that is?"
"Mr. Shiloh and Ms. Meatloaf."

"Who is that?"
"Umm, I lent the baron a loan… … ."

"Aha. A moneylender?"
I remembered. The skinny and fat man who visited the baron the other day. At the time, did you drive them out with a bit of polite gongka and a threat? Lloyd grinned as he recalled the incident.

"It's just fine."
Really good. I was just about to check the debt issue with the moneylenders.

'They seem to fit me pretty well. Maybe you come to me at the exact moment you need it like this. Thank you.'
Lloyd steps into the drawing room. Today, the thought of negotiating with the loan sharks made me hum.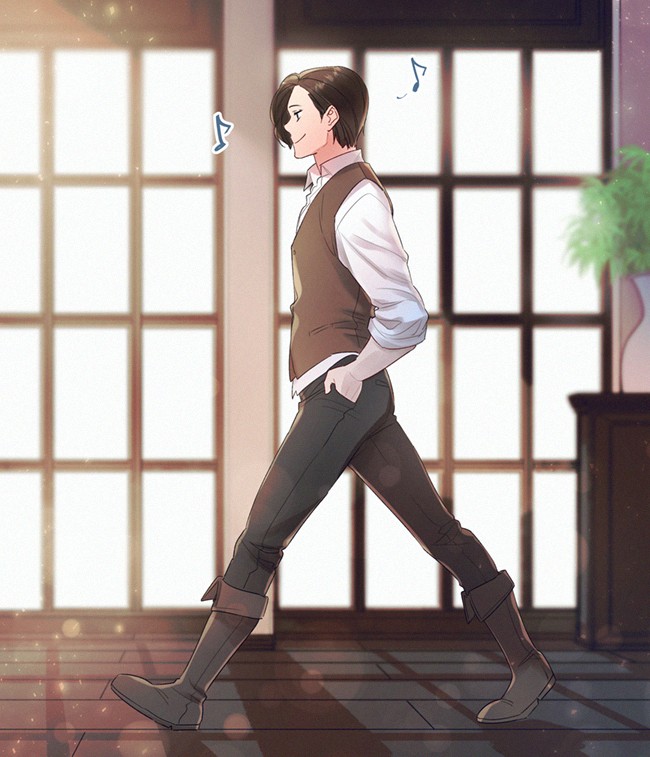 Comments for chapter "chapter 40 "
MANGA DISCUSSION
Tips: Lorem ipsum dolor sit amet, consectetur adipisicing elit, sed do eiusmod tempor incididunt ut labore et dolore magna aliqua. Ut enim ad minim veniam, quis nostrud exercitation ullamco laboris nisi ut aliquip ex ea commodo consequat. Duis aulores eos qui ratione voluptatem sequi nesciunt. Neque porro quisquam est, qui dolorem ipsum quia dolor sit ame